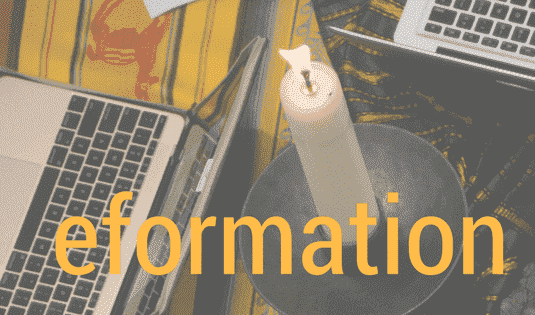 "eFormation is a learning community and an ecumenical conference on ministry in a digital world, for leaders invested in the future of the church."
What is eFormation?
eFormation is a 21st century learning community, focused on digital media for ministry. In 2012 the Center for the Ministry of Teaching started eFormation to gather, share, and train faith leaders in digital media. Now there are eFormation events around the country. The largest gathering is our flagship event at Virginia Theological Seminary (Alexandria, VA) on June 5-6, 2017.
Registration is open – you are invited to this exciting event!
What Will this Year's Conference be Like?
This 2017 eFormation conference will be a bit different than in previous years. This year we will host a two day conference: Monday June 5th is a pre-conference leadership summit, and Tuesday June 6th is a full slate of workshops. Additionally, there will be a special Monday evening lecture on educational neuroscience. The lineup of presenters and workshop leaders is tremendous. Check out the following leaders and topics:
John Roberto – Digital Tools for Faith Formation with All Ages /
Faith Formation for Every Adult in the Congregation in a Digital Culture
Keith Anderson – Faith Formation Online
Kyle Oliver – Hybrid Faith Formation
David Gortner + Jeremy Tackett – Digital Evangelism
Judy Fentress-Williams – Monday pre-conference leader
Ramelle McCall and Becky Zartman – Monday pre-conference leader
Glenn Whitman and Ian Kelleher – Educational Neuroscience (Monday evening)
Lorenzo Lebrija – Trying Everything: Experiences of Digital Evangelism and Fundraising
Steve Thomason – Visuals and Storyboarding for Presentations and Sermons
Hugo Olaiz – Latinos, Social Media, and the Church: An Overview
Nurya Love Parish – Website 101, 102 /
Implementation of Video in Ministry
Bethany Stolle – Theology and Design Thinking (webinar only)
Christian Anderson + Trevor Black – Anyone Can Make Videos
Eduardo Rivera – Easy Graphic Design
Kim Arakawa – Strengthening Message and Connection to Support Mission
Santiago Rodriguez – Using Social Media to Create Community and Understanding
Stacy Williams-Duncan  – Creating Space and Community Online with Video Meetings
Kenji Kuramitsu – Doing Theology Online
Bryan Miller + Michael Gewecke – Dispelling Social Media Myths /
Communication Plans 101
Kelsey Parrish – You Have It, Now What?! Sharing Your Resources
Who Comes to eFormation?
Anyone interested in ministry, and how ministry is changing in this digital world. For example: formation leaders and Christian educators; church staff and volunteers; parish communicators; clergy of all denominations; chaplains; teachers; college/seminary students; and denominational leaders.
Webinar Access for eFormation 2017
If you can't make it to Alexandria, you can still experience eFormation via online webinar access. For just $60, you can watch, listen, and interact with 4 workshops on Tuesday (choose from 9 workshops total). We will announce these webinar workshops soon – you can suggest your preferences by contacting us.
Register for eFormation 2017
Register today for this exciting event! eFormation is committed to affordable and flexible pricing. You can register for any combination of Monday, Tuesday, Monday evening, etc. Check out the registration page for full details, prices, and options.
Want to Learn More?
For more information on eFormation, check out the main webpage: www.eformationvts.org. Look for updates and pictures on the eFormation Facebook page. Finally, reach out to our Digital Missioner Sarah Stonesifer at sstonesifer@vts.edu.
---
Did you enjoy this article? Consider subscribing to Building Faith and get every new post by email. It's free and always will be. Subscribe to Building Faith.